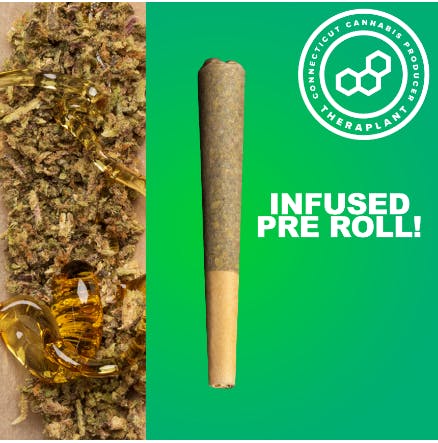 Brand: Theraplant
Theraplant Early Glue T35.3 Infused PR | 0.7g
Hybrid
THC:21.36%
CBD:0.07%
Flower Equivalent: 0.97g Early Glue -- A gorgeous homage to Original Glue, Early Glue RBx1 by Ethos Genetics crosses Black Fire F1 with Original Glue. The result is a plant with beautiful dense stacked flowers that are light green with purple calyxes and blanketed in resin. Expect a similar structure and aromas as Original Glue with pungent earthy, skunky, and sour notes. Its potent high is long-lasting, offering users a heightened mood and overall physical relaxation.
Effects
Calm
Happy
Relaxed
Energetic
View Product Testing Data
CBD (Cannabidiol)
0.07%
CBD (Cannabidiol)-0.07%
CBD is the second most prevalent cannabinoid and is primarily produced by hemp plants and at lower amounts in cannabis. It works as a phytocannabinoid, or binding agent, that adheres to an individual's endocannabinoid system. Cannabidiol has soared in popularity due to its lack of psychoactive effects. Most users seek CBD for its medicinal properties since it was the first cannabinoid to be approved by the FDA. Its healing properties include an ability to help you relax, reduce irritability and ease restlessness.
CBDA (Cannabidiolic acid)
0.39%
CBDA (Cannabidiolic acid)-0.39%
CBDA is a derivative of CBGA and the precursor to the well known cannabinoid CBD. Over the last decade scientists have found that CBDA has a very similar chemical structure to that of nonsteroidal anti-inflammatory drugs (NSAIDs) and thus has shown promise in treating pain due to inflammation by inhibiting COX-2 receptors in the brain that register pain. CBDA has also been shown to help regulate the over release of serotonin that causes severe nausea and vomiting in patients receiving chemotherapy, and while more thorough research is needed these results are very promising.
"TAC" - Total Active Cannabinoids
35.29%
"TAC" - Total Active Cannabinoids-35.29%
Total active cannabinoids represent the total amount of active cannabinoids at the time of lab testing. This total of active cannabinoids considers all of the active compounds that the product holds.
THCA (Δ9-tetrahydrocannabinolic acid)
15.87%
THCA (Δ9-tetrahydrocannabinolic acid)-15.87%
THCA is a cannabis compound with a laundry list of potential mental and physical health benefits. THCA is the non-psychoactive precursor to THC, the most famous cannabinoid of all. While THC is responsible for the psychoactive "high" that so many of us enjoy, THCA has shown great promise as an anti-inflammatory, neuroprotectant and anti-emetic for appetite loss and treatment of nausea. THCA is found in its highest levels in living or freshly harvested cannabis samples. For this reason some users choose to juice fresh cannabis leaves and flowers to get as much THCA as possible.
About the brand :
Theraplant
Locally owned and operated, Theraplant is a CT State-Licensed medical marijuana producer dedicated to helping patients live & feel better. In October 2014, we were the first producer to release cannabis onto the Connecticut market. We hand select premium cannabis genetics to offer cardholders a variety of different THC and CBD compositions, flavors and experiences. Our products are grown in a controlled, clean environment, under the watch of an award-winning cannabis cultivation team and are all tested by a third party laboratory for pesticides and microbiologicals. We are proud to lead the charge in making quality medical cannabis affordable and will continue to advocate for the highest quality cannabis products at the lowest cost to patients.