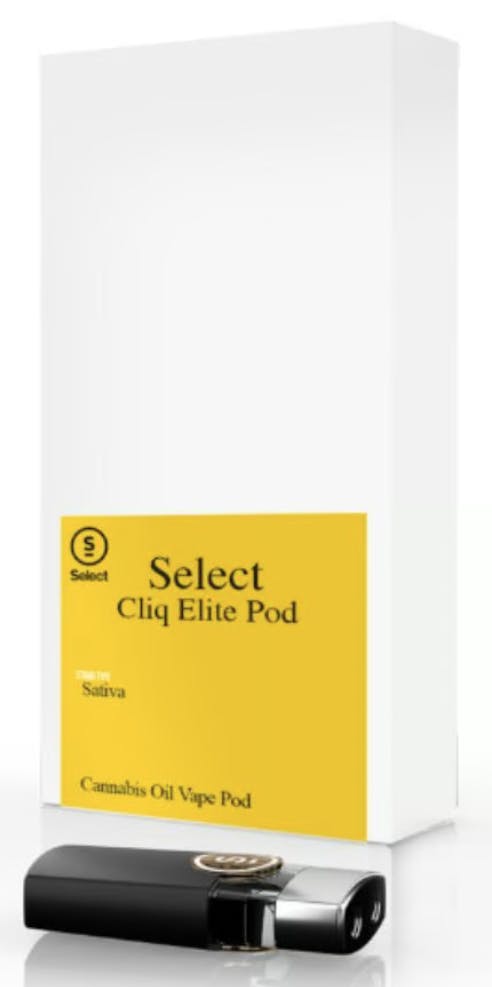 Brand: Select
Select Cliq Elite Pod Sunlight 1g
Sativa
THC:88.36%
CBD:0.71%
Flower Equivalent: 3.61g Haze, also known as "Original Haze," "OG Haze," "Haze OG," and "Haze Brothers," is a sativa marijuana strain. This strain provides high-energy and creative effects. Haze first took root in Santa Cruz, California during the 1960s where long growing seasons accommodated her lengthy flowering cycle. Since then, Haze has become the proud parent of countless hybrids around the globe, passing on its genetics from Colombia, Mexico, Thailand, and South India. Haze's aroma is typically characterized by a spicy scent accented by hints of citrus and earthy sweetness.
Effects
Energetic
Happy
Creative
Focused
Inspired
View Product Testing Data
Beta Myrcene
0.79%
Beta Myrcene
0.79%
beta-Myrcene a.k.a. Myrcene is one of the most common terpenes found in cannabis. Myrcene is known to increase the effects of the psychoactive properties of THC and enhance the health benefits found in CBD. Commonly found in parsley, mangoes & hops, Myrcene is a good option for those looking to add a little relaxation to their overall experience.
Aromas
Earthy
Musk
Cloves
Potential Health Benefits
Anti-inflammatory
Cancer Fighting
Pain Relief
Ocimene
0.34%
Ocimene
0.34%
Ocimene is a terpene that is commonly found in cannabis as well as in a wide array of fruits and vegetables. Some familiar fruits and spices that contain Ocimene are; parsley, mango, basil, allspice and pepper. Historically it has been widely used in perfumes, but has recently been shown to have possible potential benefits to health as an anti-inflammatory, anti-viral and anti-bacterial compound.
Aromas
Herbal
Sweet
Woody
Potential Health Benefits
Anti-inflammatory
Anti-bacterial
Terpinolene
0.39%
Terpinolene
0.39%
Terpinolene is a cannabis terpene with strong aromatic properties which makes it a popular ingredient in perfumes, lotions & soaps. While this may not be a prevailing terpene such as myrcene or linalool, it still has the potential to positively effect the endocannabinoid system through its numerous potential health benefits. Also found naturally occurring in apples, tea trees & sage.
Aromas
Citrus
Woody
Spice
Potential Health Benefits
Cancer Fighting
Sedative
Stress Relief
Anti-anxiety
CBD (Cannabidiol)
7.1%
CBD (Cannabidiol)-7.1%
CBD is the second most prevalent cannabinoid and is primarily produced by hemp plants and at lower amounts in cannabis. It works as a phytocannabinoid, or binding agent, that adheres to an individual's endocannabinoid system. Cannabidiol has soared in popularity due to its lack of psychoactive effects. Most users seek CBD for its medicinal properties since it was the first cannabinoid to be approved by the FDA. Its healing properties include an ability to help you relax, reduce irritability and ease restlessness.
About the brand :
Select
Select holds their oil to the highest standards with the most stringent & progressive testing in the industry. They were the first company to begin proactively testing for a full panel of 66 analytes at the PPB (Parts Per Billion) level. Select uses Ethanol Hash Oil extraction methods, allowing for the greatest levels of cannabinoid retention. Select's thoughtful terpene preservation process delivers an unmatched oil, superior in quality & potency. Ceramic core technology evenly distributes heat to the oil, increasing quality & volume of vapor. Unbleached, organic cotton wicks mean enhanced purity, flavor, and quality in each puff