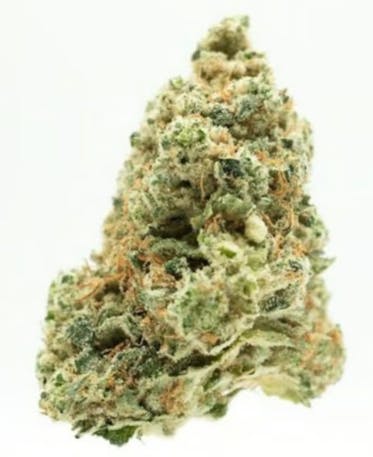 Brand: Curaleaf
Curaleaf Whole Flower ICC 7g
Flower Equivalent: 7g Ice Cream Cake is an indica marijuana strain made by crossing Wedding Cake with Gelato #33. This strain offers sedating effects that leave your mind and body completely relaxed. Ice Cream Cake features a creamy flavor profile with sweet hints of vanilla and sugary dough. This strain is reported by medical marijuana patients and consumers to have calming effects that help with pain, sleep, and anxiety. Ice Cream Cake weed is ideal for night time use when you have nothing important to do except watch TV and fall asleep. Under the moon's soft and silvery gleam, Ice Cream Cake, a cannabis dream. A poetic dance in the garden's wake, A timeless ode to Ice Cream Cake.
Effects
Relaxed
Sleepy
Happy
View Product Testing Data
Beta Caryophyllene
0.36%
Beta Caryophyllene
0.36%
Beta-caryophyllene is known for it's wide variety of potential health benefits both physically & mentally. This terpene has a unique ability to bind to the CB2 receptors; CB2 receptors are targeted when treating pain & inflammation with cannabis. Beta-caryophyllene is also approved for use in food by the FDA & is commonly found in black pepper, cinnamon, & basil.
Aromas
Sharp
Spice
Sweet
Wood
Potential Health Benefits
Anti-inflammatory
Gastrointestinal
Cancer Fighting
Anti-depression
Anti-anxiety
Pain Relief
Brain Function
Anti-diabetic
Humulene
0.12%
Humulene
0.12%
Commonly found in ginseng, ginger, & hops, Humulene is known to lend its robust characteristics to the different scents of cannabis. This terpene has been used in holistic practices for hundreds of years due to its strong anti-inflammatory properties. Humulene has also been reported to act as an appetite suppressant.
Aromas
Herbal
Spice
Woody
Earthy
Potential Health Benefits
Anti-inflammatory
Cancer Fighting
Appetite Suppressant
CBDA (Cannabidiolic acid)
0.04%
CBDA (Cannabidiolic acid)-0.04%
CBDA is a derivative of CBGA and the precursor to the well known cannabinoid CBD. Over the last decade scientists have found that CBDA has a very similar chemical structure to that of nonsteroidal anti-inflammatory drugs (NSAIDs) and thus has shown promise in treating pain due to inflammation by inhibiting COX-2 receptors in the brain that register pain. CBDA has also been shown to help regulate the over release of serotonin that causes severe nausea and vomiting in patients receiving chemotherapy, and while more thorough research is needed these results are very promising.
About the brand :
Curaleaf
Curaleaf hears great stories from people just like you all over the country. From the military veteran to the senior citizen to the businesswoman or the soccer dad, everyone has a story to share about the positive impact that cannabis has had on their lives. Whether you have never tried cannabis before or are interested in learning more about all the product options available now, Curaleaf can help guide you. Discover Curaleaf. Live Life Well