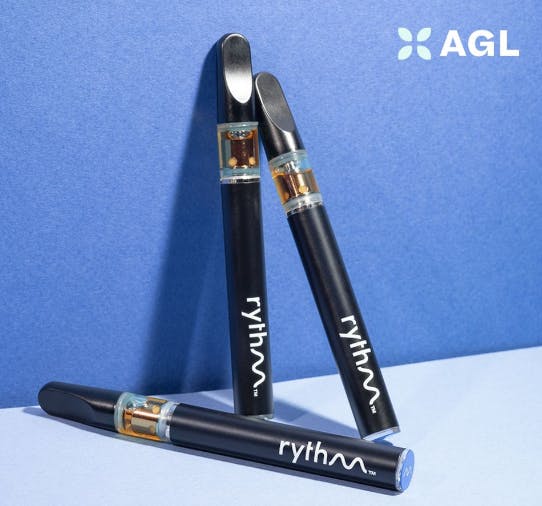 Brand: Rythm
AGL Rythm The Schwartz Disposable .3g
Effects
Calm
Happy
Relaxed
Energetic
View Product Testing Data
Beta Caryophyllene
0.36%
Beta Caryophyllene
0.36%
Beta-caryophyllene is known for it's wide variety of potential health benefits both physically & mentally. This terpene has a unique ability to bind to the CB2 receptors; CB2 receptors are targeted when treating pain & inflammation with cannabis. Beta-caryophyllene is also approved for use in food by the FDA & is commonly found in black pepper, cinnamon, & basil.
Aromas
Sharp
Spice
Sweet
Wood
Potential Health Benefits
Anti-inflammatory
Gastrointestinal
Cancer Fighting
Anti-depression
Anti-anxiety
Pain Relief
Brain Function
Anti-diabetic
Beta Myrcene
0.22%
Beta Myrcene
0.22%
beta-Myrcene a.k.a. Myrcene is one of the most common terpenes found in cannabis. Myrcene is known to increase the effects of the psychoactive properties of THC and enhance the health benefits found in CBD. Commonly found in parsley, mangoes & hops, Myrcene is a good option for those looking to add a little relaxation to their overall experience.
Aromas
Earthy
Musk
Cloves
Potential Health Benefits
Anti-inflammatory
Cancer Fighting
Pain Relief
Linalool
0.23%
Linalool
0.23%
Linalool is a multi-use terpene that carries a strong calming effect as well as an ability to act as an anticonvulsant in epileptic patients. Found in the plants rosewood, coriander, & lavender, Linalool is a popular terpene commonly present in over 200 species of plants across the world. Linalool is a good addition to your terpene selection when looking for a little R & R.
Aromas
Floral
Herbal
Lavender
Effects
Comfort
Potential Health Benefits
Anti-anxiety
Anti-inflammatory
Sedative
Pain Relief
Stress Relief
Sleep aid
Cancer Fighting
Terpinolene
0.3%
Terpinolene
0.3%
Terpinolene is a cannabis terpene with strong aromatic properties which makes it a popular ingredient in perfumes, lotions & soaps. While this may not be a prevailing terpene such as myrcene or linalool, it still has the potential to positively effect the endocannabinoid system through its numerous potential health benefits. Also found naturally occurring in apples, tea trees & sage.
Aromas
Citrus
Woody
Spice
Potential Health Benefits
Cancer Fighting
Sedative
Stress Relief
Anti-anxiety
CBD (Cannabidiol)
0.39%
CBD (Cannabidiol)-0.39%
CBD is the second most prevalent cannabinoid and is primarily produced by hemp plants and at lower amounts in cannabis. It works as a phytocannabinoid, or binding agent, that adheres to an individual's endocannabinoid system. Cannabidiol has soared in popularity due to its lack of psychoactive effects. Most users seek CBD for its medicinal properties since it was the first cannabinoid to be approved by the FDA. Its healing properties include an ability to help you relax, reduce irritability and ease restlessness.
THCA (Δ9-tetrahydrocannabinolic acid)
5.34%
THCA (Δ9-tetrahydrocannabinolic acid)-5.34%
THCA is a cannabis compound with a laundry list of potential mental and physical health benefits. THCA is the non-psychoactive precursor to THC, the most famous cannabinoid of all. While THC is responsible for the psychoactive "high" that so many of us enjoy, THCA has shown great promise as an anti-inflammatory, neuroprotectant and anti-emetic for appetite loss and treatment of nausea. THCA is found in its highest levels in living or freshly harvested cannabis samples. For this reason some users choose to juice fresh cannabis leaves and flowers to get as much THCA as possible.
About the brand :
Rythm
RYTHM is a national cannabis brand with a singular promise: to provide consistent, authentic experiences that empower consumers to live their best lives. Rythm's streamlined product suite and intuitive effect scale simplify the cluttered and confusing universe of cannabis products, while their tireless commitment to innovation in technology and horticulture ensures quality and reliability.