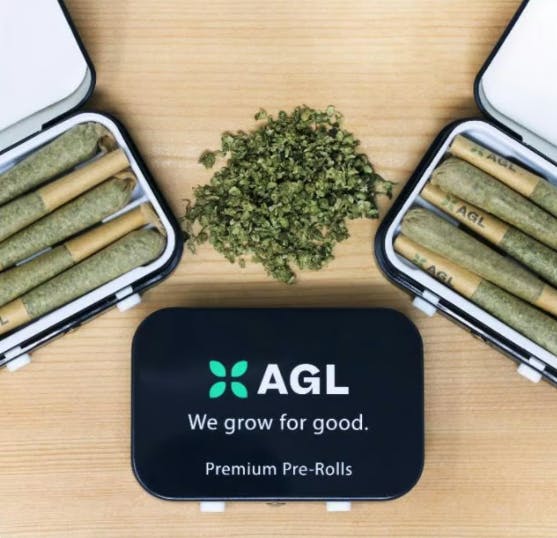 Brand: Advanced Grow Labs
AGL Indicol C Pre Rolls - 5 Pack | 2g
Effects
Relaxed
Sleepy
Happy
View Product Testing Data
CBDA (Cannabidiolic acid)
0.11%
CBDA (Cannabidiolic acid)-0.11%
CBDA is a derivative of CBGA and the precursor to the well known cannabinoid CBD. Over the last decade scientists have found that CBDA has a very similar chemical structure to that of nonsteroidal anti-inflammatory drugs (NSAIDs) and thus has shown promise in treating pain due to inflammation by inhibiting COX-2 receptors in the brain that register pain. CBDA has also been shown to help regulate the over release of serotonin that causes severe nausea and vomiting in patients receiving chemotherapy, and while more thorough research is needed these results are very promising.
THCA (Δ9-tetrahydrocannabinolic acid)
28.74%
THCA (Δ9-tetrahydrocannabinolic acid)-28.74%
THCA is a cannabis compound with a laundry list of potential mental and physical health benefits. THCA is the non-psychoactive precursor to THC, the most famous cannabinoid of all. While THC is responsible for the psychoactive "high" that so many of us enjoy, THCA has shown great promise as an anti-inflammatory, neuroprotectant and anti-emetic for appetite loss and treatment of nausea. THCA is found in its highest levels in living or freshly harvested cannabis samples. For this reason some users choose to juice fresh cannabis leaves and flowers to get as much THCA as possible.
About the brand :
Advanced Grow Labs
Advanced Grow Labs is committed to producing the highest quality pharmaceutical marijuana products for the patients of Connecticut. They innovate and improve how they grow, develop, and refine products — offering 100s of diverse, naturally developed products aimed to provide patients with the options they need to dose with medicine in an individual, personal and discrete manner. Facility of Size: 40,000 sq ft state-of-the-art facility Cultivated: Naturally-based and scientifically focused seed to harvest processes directed by AGL expert cultivators. Controlled: Every aspect of their indoor grow is carefully monitored and adjusted to enhance the natural development and growth of AGL flowers. Regulated: Strictly regulated and thoroughly tested.